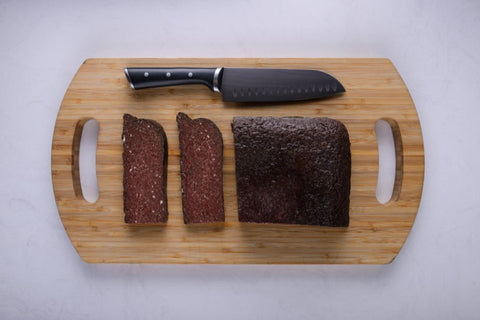 Sneem Black Pudding
Sneem Black Pudding has a smooth almost mousse-like texture, giving it an exceptionally smooth mouth feel. When cooked, as recommended, over a high heat for a short period, the resulting black pudding should have a slightly crisp surface, contrasting with its smooth centre.

As a result of the diverse, hill and mountain grazing environments of the livestock which provide the blood and suet for the product, Sneem Black Pudding has, in its raw form, a sweet, floral bouquet that complements a rich, earthy base flavour. A flavour combination which has been knitted together gently through the local craft of hand production in small batches and slow, gradual baking in trays.
Flavour Profile
Sneem Black Pudding has a rich and savoury flavor with a slightly spicy and peppery taste from the blend of spices used in the recipe. The pudding has a meaty taste that's complemented by the sweetness of the onions and the nuttiness of the oatmeal.
Cooking Methods
Pan-fry, grill, bake or boil
Serving Suggestions
Add sliced Sneem Black Pudding to sandwiches, such as a black pudding and apple sandwich, for a unique and delicious twist.
Product Tour
Sneem Black Pudding is a traditional Irish delicacy that's made in the village of Sneem in County Kerry, Ireland. It's a classic ingredient in a traditional Irish breakfast, but it can also be crumbled over salads, added to sandwiches, used as a stuffing for meats, or served as a savoury appetizer.
Things we get asked
What happens after I place my order?
You will receive an instant confirmation email to say that we have received your received our order. When your order has been prepared and sent you will receive an email with a parcel tracking number. This tracking number can be used to check on the progress of your delivery.

After you have received your order we may send you a follow-up email looking for your feedback.
How is my order packaged?
Your purchase will arrive as fresh as when it left our store. We use high-quality, eco-friendly insulated packaging, specially designed for the transportation of temperature-sensitive goods.
Where do you source your meat?
All of our meat is 100% Irish grass fed beef and sourced from local Bord Bia approved farms.