Back to all recipes
Warm Black Pudding Salad with Red Cabbage, Bacon & Apple
By Tim Jones
This is a lovely light salad that's packed full of flavour. Would also be delicious with a poached egg on top. Can be served as a starter or main course.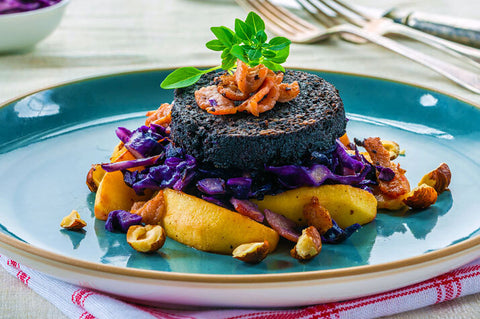 Ingredients
1 tbsp vegetable oil
8 rashers, cut into pieces
600g shredded red cabbage
4 large slices of black pudding
2 Apples, peeled, cored and cut into wedges
2 knobs of butter
A pinch of sugar
A few hazelnuts
1 tbsp honey
1 tbsp wholegrain mustard
3 tbsp olive oil
1 tbsp apple cider vinegar
Instructions
1. Make the dressing by combining the honey, wholegrain mustard, olive oil and apple cider vinegar in a bowl and set aside. 
2. Heat vegetable oil in a frying pan over medium heat and cook rashers for 7 minutes until golden brown and crispy. 
3. Remove the bacon from the pan, and add the red cabbage, stir fry for 5 minutes until the cabbage has begun to wilt. 
4. Remove the cabbage into a bowl, and combine with most of the dressing. 
5. Add a knob of butter into the pan, and cook the black pudding for 3 minutes per side, then set aside. 
6. Turn up the heat and fry the apples in a knob of butter with a pinch of sugar until caramelised around the edges. 
7. Create a bed of Cabbage on your plate surrounded by apple wedges, top with black pudding and bacon, the rest of the dressing, and scatter with hazelnuts