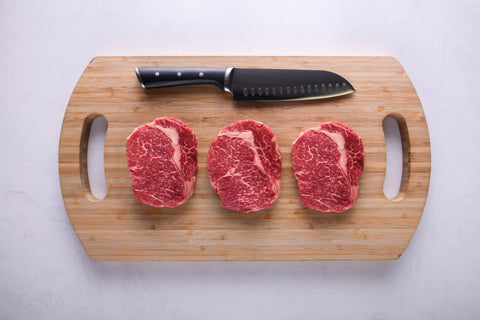 Ribeye Steak
The Ribeye Steak comes from the rib loin section of the cow. It is a very tender and juicy steak that has a buttery, beefy flavour. It is best cooked over high heat, either on the grill or in a pan.
Our Ribeye Steak is sourced from Bord Bia approved local Irish farms and is 100% grass-fed which ensures it is high in Omega 3 and full of vitamins

Flavour Profile
Ribeye is incredibly tender and juicy, with a robust beefy flavour that really shines through. It's perfect for a hearty steak dinner, with a mouthfeel that's both silky and substantial. Ribeye is why steak knives were invented.
Cooking Methods
Grill, Oven Broil or Pan-Sear. Ribeye is a rich and beefy cut that is best cooked over high heat. The easiest way to cook ribeye is on the grill, but you can also cook it in a pan or in the oven. The most important thing to remember when cooking ribeye is to use high heat so that the outside of the steak cooks quickly while the inside remains juicy and tender. Season with salt and pepper. Then use a stainless steel, carbon steel or cast iron pan with a light oil on high heat to quickly sear each side for approximately 1 to 2 minutes. Then transfer the entire pan into a pre-heated 180 C oven for 7 to 10 minutes for a perfect medium rare. After coming out of the oven, do not poke, cut or slice the steak until it has rested for at least 5 minutes so the juices have time to redistribute.
Serving Suggestions
With its rich and beefy flavour, this cut pairs well with almost any side or sauce. Some of our favorites include roasted garlic mashed potatoes and rich gravy. For herbs, we love using fresh rosemary, thyme, or parsley. These herbs add a delicious and fragrant flavor to the meat that is perfect for enhancing its natural flavors.
Wine Pairings
Cabernet Sauvignon, Syrah, Pinot Noir
About the cut
Ribeyes are cut from the rib primal, located in the center of the cattle's back. This primal features softer, less-strenuously used muscles and a healthy amount of marbling, yielding an exceptionally tender and flavourful cut of meat.
Things we get asked
What happens after I place my order?
You will receive an instant confirmation email to say that we have received your received our order. When your order has been prepared and sent you will receive an email with a parcel tracking number. This tracking number can be used to check on the progress of your delivery.

After you have received your order we may send you a follow-up email looking for your feedback.
How is my order packaged?
Your purchase will arrive as fresh as when it left our store. We use high-quality, eco-friendly insulated packaging, specially designed for the transportation of temperature-sensitive goods.
Where do you source your meat?
All of our meat is 100% Irish grass fed beef and sourced from local Bord Bia approved farms.