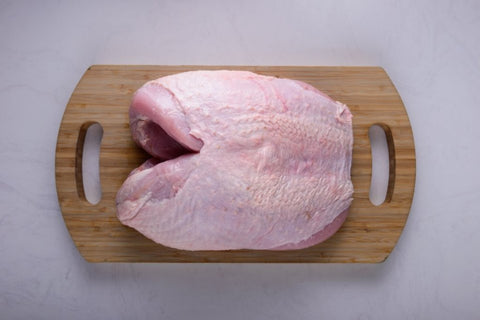 Turkey Crown
Our Turkey Crown is a premium turkey breast on the bone with the legs removed. The crown makes roasting easier while you still get the full flavour that the bones bring to the turkey meat. 
All of our Turkey is sourced from Bord Bia approved local Irish farms.
Flavour Profile
A tender cut of meat that can be easily cooked and is a popular choice for a range of recipes and takes on the flavors of the marinade, seasoning, or sauce used. Famous as part of a roast but can be used to bring the taste to so much more
Cooking Methods
Preheat the oven to 180°C then remove the turkey crown from the packaging and rinse under cold water. Dry the turkey crown dry and place it in a roasting tin, seasoning with salt and pepper whilst adding olive oil or butter to keep it moist during cooking. Cover the roasting tin with foil, making sure it is tightly sealed and place in the oven, cooking for 20-25 minutes per kilogram. During cooking, baste the turkey crown with the pan juices or additional olive oil or butter every 30 minutes to keep it moist and tender. Remove the foil during the last 30 minutes of cooking to allow the skin to brown and crisp up. Once cooked, remove it from the oven and let it rest for at least 15 minutes before carving and serving.

Serving Suggestions
Roast the turkey crown and serve it with a side of roasted vegetables, potatoes, or a fresh salad for a complete and healthy meal.
Wine Pairings
Pinot Noir, Chardonnay, Sauvignon Blanc, Beaujolais, Zinfandel
Product Tour
A popular choice for holiday meals or special occasions.Turkey is a lean and versatile cut of meat that can be used in a variety of recipes. It can be roasted, grilled, or used in sandwiches or stir-fry dishes. Although famous for the holiday season in truth it's perfect all year round
Things we get asked
What happens after I place my order?
You will receive an instant confirmation email to say that we have received your received our order. When your order has been prepared and sent you will receive an email with a parcel tracking number. This tracking number can be used to check on the progress of your delivery.

After you have received your order we may send you a follow-up email looking for your feedback.
How is my order packaged?
Your purchase will arrive as fresh as when it left our store. We use high-quality, eco-friendly insulated packaging, specially designed for the transportation of temperature-sensitive goods.
Where do you source your meat?
All of our meat is 100% Irish grass fed beef and sourced from local Bord Bia approved farms.