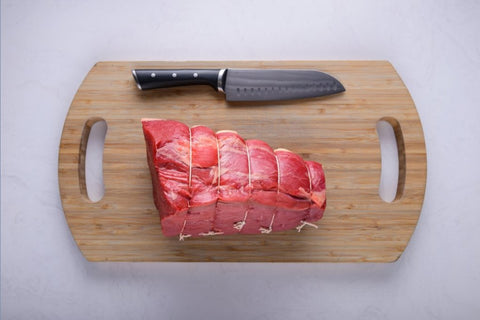 Topside Roast
Our Topside Roast is beautifully lean and tasty making it a classic roasting joint, delicious when roasted as a whole joint, or diced and slowly stewed so the meat breaks down and becomes melt-in-the-mouth. 

Our Topside Roast is sourced from local Irish farms and is 100% grass-fed which ensures it is high in Omega 3 and full of vitamins.

Flavour Profile
Lean and tender, the perfect tasty roast.
Cooking Methods
Cook in a pre heated oven at 230°C/gas mark 8. Place your Topside in a roasting pan and brown in the oven for 20 minutes. Then remove the pan, add a little water to it, and turn the oven down to 150°C/gas mark 2. Return the joint to the oven and cook for 25 minutes for every 500g in weight. When the joint has cooked, remove it from the oven, wrap it in foil and leave it to rest for at least ten minutes before serving.
Serving Suggestions
Topside has less fat running through it than other cuts making it leaner, and therefore it would work in a lower-fat stew, casserole or curry
Wine Pairings
Cabernet Sauvignon, Pinot Noir, Syrah
About the cut
Topside is known as being a lean portion of meat that features minimal marbling and comes from the long inner thigh
Things we get asked
What happens after I place my order?
You will receive an instant confirmation email to say that we have received your received our order. When your order has been prepared and sent you will receive an email with a parcel tracking number. This tracking number can be used to check on the progress of your delivery.

After you have received your order we may send you a follow-up email looking for your feedback.
How is my order packaged?
Your purchase will arrive as fresh as when it left our store. We use high-quality, eco-friendly insulated packaging, specially designed for the transportation of temperature-sensitive goods.
Where do you source your meat?
All of our meat is 100% Irish grass fed beef and sourced from local Bord Bia approved farms.