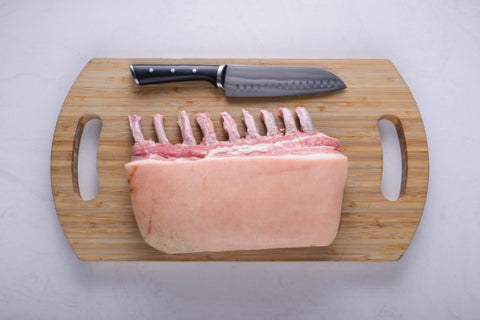 Rack of Pork with Crackling
Our roast rack of pork tantalises the taste buds and makes the crispiest, crunchiest crackling. Serve our roast pork and crackling with some sauteed brussel sprouts, carrots and honey roasted parsnips,roast potatoes, and some orange and cranberry stuffing.
All of our pork is sourced from Bord Bia approved local Irish farms.

Flavour Profile
A rack of pork with crackling has a delicious and savory flavor profile, with a crispy and salty exterior and juicy and tender meat on the inside, with the crackling adding an irresistible crunch to each bite.

Cooking Methods
Roast in the oven for 20 minutes at 220°C to get the skin crisp and bubbly. Reduce the temp to 160°C and continue roasting for 1 1/2 to 2 hours, or until it reaches an internal temperature of 70°C when tested with a meat thermometer. To get a perfectly crispy crackling, make sure to dry the skin of the pork thoroughly before scoring it
Serving Suggestions
A classic centerpiece for a Sunday roast or holiday meal. Serve it with roast potatoes, carrots, and other vegetables for a hearty and comforting meal.
Wine Pairings
Pinot Noir, Chardonnay, Zinfandel, Rosé

Product Tour
The rack of pork is a cut of meat that includes the loin and rib bones whilst the crackling is salty, crispy, and irresistible, making it a favorite part of the dish.
Things we get asked
What happens after I place my order?
You will receive an instant confirmation email to say that we have received your received our order. When your order has been prepared and sent you will receive an email with a parcel tracking number. This tracking number can be used to check on the progress of your delivery.

After you have received your order we may send you a follow-up email looking for your feedback.
How is my order packaged?
Your purchase will arrive as fresh as when it left our store. We use high-quality, eco-friendly insulated packaging, specially designed for the transportation of temperature-sensitive goods.
Where do you source your meat?
All of our meat is 100% Irish grass fed beef and sourced from local Bord Bia approved farms.