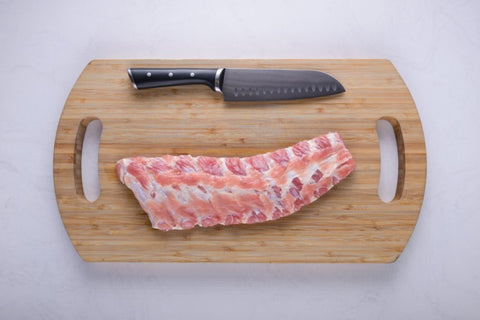 Pork Ribs
Pork Ribs are both flavourful and juicy while being an excellent lean option. All of our pork is sourced from Bord Bia approved local Irish farms.
Flavour Profile
Pork ribs are a flavourful and juicy cut of meat with a savory taste. The meat is often slow-cooked until it's tender and falling off the bone, with a crispy exterior that is achieved through grilling or roasting. The flavour of the meat is enhanced by the use of seasonings such as garlic, paprika, and chili powder, as well as a sweet and tangy BBQ sauce.
Cooking Methods
Preheat the oven to 175°C and place them on a baking sheet. Roast the ribs in the oven for 1-1.5 hours, or until they're browned and cooked through. Brush with a BBQ sauce in the last few minutes of cooking for added flavour.
Serving Suggestions
Serve the pork ribs with mac and cheese, collard greens, and cornbread for a traditional Southern-style meal.
Wine Pairings
Pinot Noir, Zinfandel, Syrah/Shiraz, Malbec, Riesling
Product Tour
Pork ribs are a versatile cut of meat that can be prepared in many different ways. Experimenting with different methods can help you discover new and exciting ways to enjoy this delicious and succulent cut of pork.
Things we get asked
What happens after I place my order?
You will receive an instant confirmation email to say that we have received your received our order. When your order has been prepared and sent you will receive an email with a parcel tracking number. This tracking number can be used to check on the progress of your delivery.

After you have received your order we may send you a follow-up email looking for your feedback.
How is my order packaged?
Your purchase will arrive as fresh as when it left our store. We use high-quality, eco-friendly insulated packaging, specially designed for the transportation of temperature-sensitive goods.
Where do you source your meat?
All of our meat is 100% Irish grass fed beef and sourced from local Bord Bia approved farms.