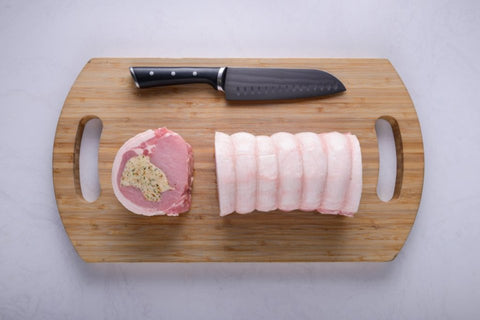 Pork Loin Roast (Stuffed & Boneless)
Our Pork Loin Roast is tender and juicy. It is a lean cut of meat that is easy to make and delicious to eat. Put it together with any of your favorite side dishes for the perfect meal.
All of our pork is sourced from Bord Bia approved local Irish farms.
Flavour Profile
The pork loin roast is a tender and juicy cut of pork that has a mild, sweet and savory flavor. It's a versatile cut of pork that can be seasoned in many different ways depending on personal preference.
Cooking Methods
Preheat the oven to 190°C. Season the pork loin roast with salt, pepper, and any desired herbs or spices. Place the roast on a roasting pan and cook in the oven for approximately 20 minutes per pound, or until the internal temperature reaches 63°C when tested with a meat thermometer. Let the roast rest for 10 minutes before slicing and serving.
Serving Suggestions
Season the pork loin roast with salt, pepper, and herbs, and roast in the oven until cooked through. Serve with roasted potatoes, carrots, and onions, and a side of gravy.
Wine Pairings
Pinot Noir, Chardonnay, Riesling, Syrah/Shiraz, Beaujolais
Product Tour
The pork loin is a lean cut of meat with a light pink colour. It usually has a thin layer of fat on the top, which helps to keep the meat moist during cooking. Can be used in many different dishes, such as traditional roasts, stuffed pork loin, BBQ pork loin roast, stir-fries, and sandwiches. Experimenting with different recipe ideas can help you discover new and exciting ways to use boneless pork loin roast.
Things we get asked
What happens after I place my order?
You will receive an instant confirmation email to say that we have received your received our order. When your order has been prepared and sent you will receive an email with a parcel tracking number. This tracking number can be used to check on the progress of your delivery.

After you have received your order we may send you a follow-up email looking for your feedback.
How is my order packaged?
Your purchase will arrive as fresh as when it left our store. We use high-quality, eco-friendly insulated packaging, specially designed for the transportation of temperature-sensitive goods.
Where do you source your meat?
All of our meat is 100% Irish grass fed beef and sourced from local Bord Bia approved farms.