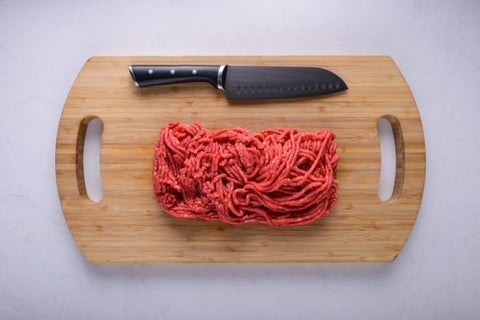 Minced Round Steak
Our Minced Round Steak is packed with flavour and has a great texture.
A home-made burger made using this mince is perfect for the BBQ or grill. This meat also makes fantastic bolognese, lasagne and pasta dishes, cottage pie and other dishes.

Our Round Steak is sourced from Bord Bia approved local Irish farms and is 100% grass-fed which ensures it is high in Omega 3 and full of vitamins.
Flavour Profile
Our Minced Round Steak is incredibly flavorful, with a deliciously rich, beefy flavor and a wonderfully smooth, juicy texture.
Cooking Methods
Fry with a dash of oil in a hot pan until fully browned.
Serving Suggestions
Add a chopped onion when frying to add even more flavour to the minced steak.
Wine Pairings
Pinot Noir, Cabernet Sauvignon, Syrah
About the cut
The round is the largest primal, located at the back and top of cattle.

Things we get asked
What happens after I place my order?
You will receive an instant confirmation email to say that we have received your received our order. When your order has been prepared and sent you will receive an email with a parcel tracking number. This tracking number can be used to check on the progress of your delivery.

After you have received your order we may send you a follow-up email looking for your feedback.
How is my order packaged?
Your purchase will arrive as fresh as when it left our store. We use high-quality, eco-friendly insulated packaging, specially designed for the transportation of temperature-sensitive goods.
Where do you source your meat?
All of our meat is 100% Irish grass fed beef and sourced from local Bord Bia approved farms.