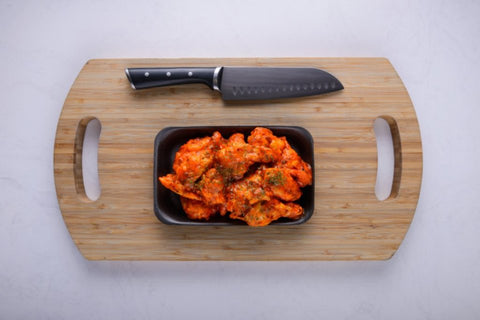 Marinated Chicken Wings
Our delicious Chicken Wings have been marinated in a tasty seasoning. Perfect for the BBQ or a quick meal.
All of our chicken is sourced from Bord Bia approved local Irish farms.
Flavour Profile
Marinated chicken wings can have a range of flavor profiles depending on the ingredients used in the marinade. They can be sweet, salty, spicy, or savory, and can be customized to suit a variety of taste preferences.
Cooking Methods
Bake, grill or fry. Plenty of options but no matter which method you choose, it's important to ensure that the internal temperature of the chicken wings reaches 74°C to ensure that they are cooked through and safe to eat. Also, let the wings rest for a few minutes after cooking to allow the juices to redistribute and keep the meat moist and flavorful. Preheat the oven to 200°C. Line a baking sheet with foil and lightly grease it with oil. Arrange the marinated chicken wings on the baking sheet and bake for 25-30 minutes, flipping the wings halfway through, until the the skin is crispy.
Serving Suggestions
A versatile and delicious dish that can be served as an appetizer, snack, or main course. Alongside dipping sauces, as a side dish or part of a part platter they go with a variety of other snacks and appetizers, such as mozzarella sticks, onion rings, and nachos. Get creative with your serving suggestions to make the dish even more enjoyable!
Wine Pairings
Product Tour
Marinated chicken wings are typically made with chicken wings that have been coated in a marinade made from a variety of ingredients such as soy sauce, honey, vinegar, and hot sauce, among others. Other ingredients like garlic, ginger, and herbs can be added to the marinade to add depth of flavor. A delicious and crowd-pleasing dish that can be enjoyed in a variety of ways. Whether prepared at home or ordered at a restaurant, they are sure to be a hit with any crowd!
Things we get asked
What happens after I place my order?
You will receive an instant confirmation email to say that we have received your received our order. When your order has been prepared and sent you will receive an email with a parcel tracking number. This tracking number can be used to check on the progress of your delivery.

After you have received your order we may send you a follow-up email looking for your feedback.
How is my order packaged?
Your purchase will arrive as fresh as when it left our store. We use high-quality, eco-friendly insulated packaging, specially designed for the transportation of temperature-sensitive goods.
Where do you source your meat?
All of our meat is 100% Irish grass fed beef and sourced from local Bord Bia approved farms.