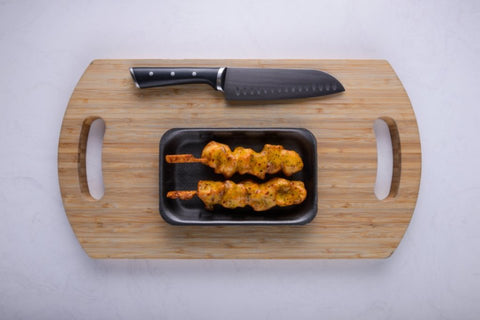 Chicken Kebabs Marinated in Indian Sauce
Add some superb indian flavour to your BBQ or dinner party with our Chicken Kebabs with an Indian sauce marinade. 
All of our chicken is sourced from Bord Bia approved local Irish farms.

Flavour Profile
A flavorful and aromatic dish that can be customized to suit different taste preferences. The heat and tanginess of the spices can be balanced out with other ingredients like yogurt or coconut milk, making it a delicious and versatile dish.
Cooking Methods
Grill or oven bake. Preheat the oven to 190°C and thread the marinated chicken onto skewers and place them on a baking sheet. Bake the chicken kebabs for 20-25 minutes, or until the chicken is cooked through and the juices run clear. Remember to brush the chicken kebabs with any leftover marinade during cooking for extra flavor. Also, be careful when handling the hot skewers, and use oven mitts or tongs to turn the kebabs during cooking.
Serving Suggestions
Serve the chicken kebabs over a bed of rice with vegetables like cucumber, tomatoes, and bell peppers for a complete meal.
Wine Pairings
Riesling, Zinfandel, Rosé, Pinot Noir
Product Tour
Made with tender chunks of chicken that have been marinated in a variety of sauces. A delicious and crowd-pleasing dish that can be enjoyed in a variety of ways. Whether prepared at home or ordered at a restaurant, they're a great option for a flavorful and satisfying meal.




Things we get asked
What happens after I place my order?
You will receive an instant confirmation email to say that we have received your received our order. When your order has been prepared and sent you will receive an email with a parcel tracking number. This tracking number can be used to check on the progress of your delivery.

After you have received your order we may send you a follow-up email looking for your feedback.
How is my order packaged?
Your purchase will arrive as fresh as when it left our store. We use high-quality, eco-friendly insulated packaging, specially designed for the transportation of temperature-sensitive goods.
Where do you source your meat?
All of our meat is 100% Irish grass fed beef and sourced from local Bord Bia approved farms.