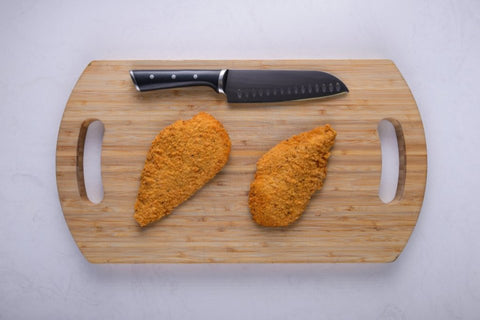 Large Southern Fried Chicken Fillets
Our Southern Fried Chicken is made from 100% chicken breast with a spicy crisp coating. Southern Fried style chicken at its best! Quick and easy to prepare.
All of our chicken is sourced from Bord Bia approved local Irish farms.
Flavour Profile
Southern Fried Chicken Fillets are a delicious and flavorful dish that offers a range of taste sensations, from savory and salty to spicy and tangy. Whether served as a main course or as a finger food for parties and events, these are sure to please.
Cooking Methods
Season the chicken generously with salt and pepper. Heat a large oven-safe skillet over medium-high heat with enough olive oil to coat the bottom of the pan. Place the chicken skin-side down in the skillet and cook for 5-6 minutes until the skin is crispy and golden brown. Flip the chicken over and cook for an additional 2-3 minutes, adding minced garlic and rosemary to the pan and cook for 1-2 minutes until fragrant. Then move to a preheated oven and cook for 20-25 minutes, or until the chicken is cooked through and reaches an internal temperature of 165°F (74°C).
Serving Suggestions
Slice and serve in a baguette with lettuce and tomato for a homemade spicy chicken fillet roll. Or toss it with your favourite veg and dressing for a lovely salad with a twist.
Wine Pairings
Chardonnay, Pinot. Zinfandel, Syrah/Shiraz, Rosé
Product Tour
Southern Fried Chicken Fillets are a popular dish, known for their crispy coating and juicy meat. Here's a product tour of Southern Fried Chicken Fillets. A versatile dish that can be served in a variety of ways. They can be served as a main course with sides like mashed potatoes, green beans, or cornbread, or they can be cut into strips and served as a finger food with dipping sauces.

Things we get asked
What happens after I place my order?
You will receive an instant confirmation email to say that we have received your received our order. When your order has been prepared and sent you will receive an email with a parcel tracking number. This tracking number can be used to check on the progress of your delivery.

After you have received your order we may send you a follow-up email looking for your feedback.
How is my order packaged?
Your purchase will arrive as fresh as when it left our store. We use high-quality, eco-friendly insulated packaging, specially designed for the transportation of temperature-sensitive goods.
Where do you source your meat?
All of our meat is 100% Irish grass fed beef and sourced from local Bord Bia approved farms.