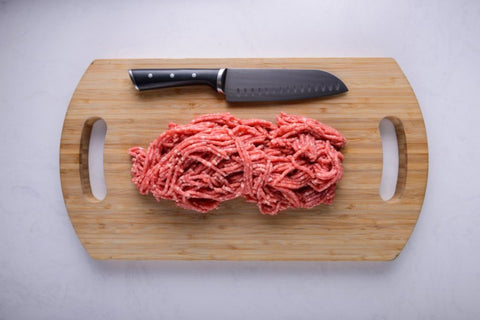 Lamb Mince (Shoulder)
Our Minced Lamb is full of flavour being from the shoulder and can be used for a range of meals. Perfect for burgers, shepherd's pie or pasta dishes

All of our lamb is sourced exclusively from local Irish farms with quality lambs that are free to graze.
Flavour Profile
Lamb mince has a distinct and delicious flavour that's often described as rich, savory, and slightly gamey. The meat is tender and juicy with a slightly chewy consistency, making it perfect for a variety of dishes.
Cooking Methods
Heat a bit of oil in a pan and add the lamb mince. Cook over medium-high heat, breaking up the meat with a spatula, until browned and cooked through. This is a great method for making kebabs or using the mince in pasta sauces or as a topping for pizzas.
Serving Suggestions
Brown the lamb mince with onions, carrots, and peas, and then layer it in a baking dish with mashed potatoes. Bake until the top is golden and crispy for the perfect Shepherd's Pie
Wine Pairings
Cabernet Sauvignon, Bordeaux, Chianti or Chardonnay
Product Tour
Lamb mince is a delicious and flavorful ingredient that's perfect for a variety of dishes. Its rich and savoury taste, succulent texture, and versatility make it a popular choice for many home cooks and chefs alike.
Things we get asked
What happens after I place my order?
You will receive an instant confirmation email to say that we have received your received our order. When your order has been prepared and sent you will receive an email with a parcel tracking number. This tracking number can be used to check on the progress of your delivery.

After you have received your order we may send you a follow-up email looking for your feedback.
How is my order packaged?
Your purchase will arrive as fresh as when it left our store. We use high-quality, eco-friendly insulated packaging, specially designed for the transportation of temperature-sensitive goods.
Where do you source your meat?
All of our meat is 100% Irish grass fed beef and sourced from local Bord Bia approved farms.