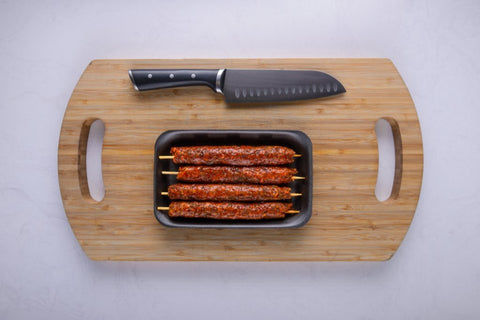 Lamb Grill Sticks (Mint)
Our mint Lamb Grill Stick are a fresh, tasty combination of lean seasoned lamb coated in a garden mint seasoning. 
All of our lamb is sourced exclusively from local Irish farms with quality lambs that are free to graze.
Flavour Profile
The mint flavour is fragrant and refreshing, complementing the rich and savory taste of the lamb. The meat is tender and succulent with a slightly chewy consistency, making it perfect for grill sticks.
Cooking Methods
Grill the lamb skewers for 8-10 minutes, turning occasionally, until the meat is browned and cooked through
Serving Suggestions
Serve the mint lamb grill sticks with a side of tzatziki sauce, grilled pita bread, and a Greek salad. This is a classic and delicious way to enjoy lamb grill sticks.
Wine Pairings
Cabernet sauvignon, Bordeaux, Chianti or Chardonnay
Product Tour
A delicious and flavourful way to enjoy lamb. Their succulent and tender meat, combined with fragrant herbs and spices, creates a delicious and satisfying taste that's sure to impress. Lamb grill sticks are a versatile and easy-to-prepare dish that's perfect for a summer barbecue or a weeknight dinner.
Things we get asked
What happens after I place my order?
You will receive an instant confirmation email to say that we have received your received our order. When your order has been prepared and sent you will receive an email with a parcel tracking number. This tracking number can be used to check on the progress of your delivery.

After you have received your order we may send you a follow-up email looking for your feedback.
How is my order packaged?
Your purchase will arrive as fresh as when it left our store. We use high-quality, eco-friendly insulated packaging, specially designed for the transportation of temperature-sensitive goods.
Where do you source your meat?
All of our meat is 100% Irish grass fed beef and sourced from local Bord Bia approved farms.