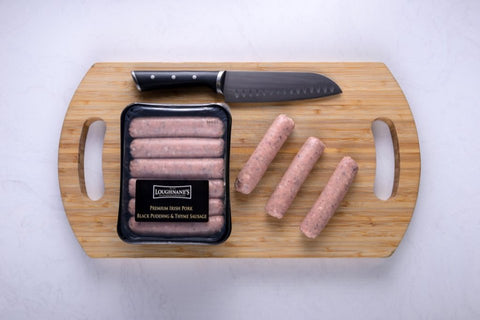 Jumbo Pudding & Thyme Sausage
These meaty jumbo sausages have a fantastic flavour and are ideal for breakfast, on the BBQ or for bangers & mash with a twist.
Flavour Profile
A type of sausage that combines the delicious taste of high-quality pork pudding with the earthy and slightly sweet flavour of thyme.
Cooking Methods
Grill, Pan-fry, oven roast or on the BBQ
Serving Suggestions
Slice and use it as a flavorful ingredient in sandwiches. It pairs well with cheese, avocado, lettuce, and tomato.
Product Tour
Our Jumbo Pudding & Thyme Sausages are a delicious and unique ingredient that's perfect for adding flavour and texture to your meals. Its combination of pork pudding and thyme creates a savory and slightly sweet flavor profile that's both satisfying and comforting. This jumbo-sized sausage can be cooked in various ways to suit your taste and preference, making it a versatile and delicious ingredient.
Things we get asked
What happens after I place my order?
You will receive an instant confirmation email to say that we have received your received our order. When your order has been prepared and sent you will receive an email with a parcel tracking number. This tracking number can be used to check on the progress of your delivery.

After you have received your order we may send you a follow-up email looking for your feedback.
How is my order packaged?
Your purchase will arrive as fresh as when it left our store. We use high-quality, eco-friendly insulated packaging, specially designed for the transportation of temperature-sensitive goods.
Where do you source your meat?
All of our meat is 100% Irish grass fed beef and sourced from local Bord Bia approved farms.