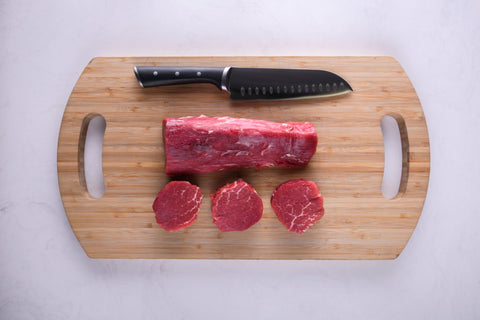 Fillet Steak
The Fillet Steak is a cut taken from the smaller end of the tenderloin. It is a very tender and juicy cut of meat that has a delicate and slightly sweet flavour. Fillet steak can be cooked by roasting, grilling, or pan-frying. Savor the flavor of a Fillet Steak – juicy with deep flavor, and truly a cut above the rest!
Flavour Profile
The Fillet Steak is a luxurious cut that is incredibly tender, juicy and flavourful. The flavour profile is rich and beefy, with a slightly sweet and nutty aftertaste. The steak has a lovely mouthfeel, with a smooth, buttery texture that melts in your mouth.
Cooking Methods
Grill, Oven Broil or Pan-Sear. The easiest way to cook filet steak is by searing it in a hot frying pan until it's browned all over. Add a little butter or oil to the pan, and then place the steak in. Cook for about 4 minutes per side, or until it's cooked to your desired taste. Let the steak rest for a few minutes after cooking. This will allow the juices to redistribute, resulting in a more tender and juicy steak.
Serving Suggestions
If you're looking to pair a delicious side dish with your fillet steak, consider something that will compliment the flavour profile of the meat. Some great options include mashed potatoes, grilled vegetables, or a simple salad. Additionally, flavorful herbs and sauces can really bring out the best in this cut of steak. A few of our favorites include pepper sauce, barnaise sauce, or a simple herb butter.
Wine Pairings
Cabernet Sauvignon, Pinot Noir, Syrah
About the cut
Fillet Steak, the most tender piece of meat on the cow, comes from the aptly named Tenderloin, a long thin strip that bisects two primals – the Sirloin and the Shortloin. Fillets are cut from the smaller (forward) end of the tenderloin, where the meat is at its most tender.
Things we get asked
What happens after I place my order?
You will receive an instant confirmation email to say that we have received your received our order. When your order has been prepared and sent you will receive an email with a parcel tracking number. This tracking number can be used to check on the progress of your delivery.

After you have received your order we may send you a follow-up email looking for your feedback.
How is my order packaged?
Your purchase will arrive as fresh as when it left our store. We use high-quality, eco-friendly insulated packaging, specially designed for the transportation of temperature-sensitive goods.
Where do you source your meat?
All of our meat is 100% Irish grass fed beef and sourced from local Bord Bia approved farms.