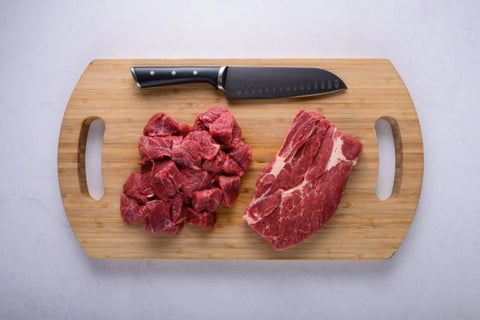 Diced Chuck
Diced Chuck is rich in flavour and perfect for slow cooking in stews and curries with fantastic marbling which keeps the beef moist as it cooks. 
Our Diced Chuck is sourced from Bord Bia approved local Irish farms and is 100% grass-fed which ensures it is high in Omega 3 and full of vitamins.
Flavour Profile
Our Diced Chuck is chock-full of beefy flavor, its perfect for stews with fantastic marbling keeping the beef moist as it cooks.
Cooking Methods
Fry for between 8-10 minutes until the meat is well browned.
Serving Suggestions
Diced chuck steak is ideal for a stew, the perfect comfort food on those cold days!
Add a glass of red wine to really deepen the flavours of your favourite stew recipe.
Wine Pairings
Pinot Noir, Cabernet Sauvignon, Syrah
Product Tour
Beef Chuck is cut from the forequarter around the shoulder, it has a good deal of connective tissue that brings out the flavour.