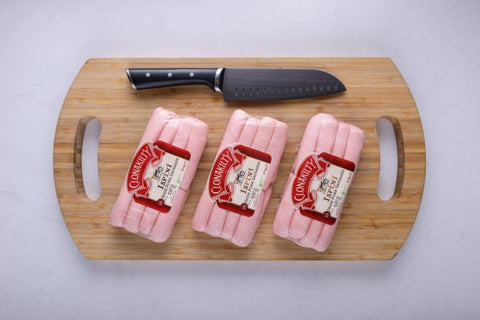 Clonakilty Sausages
Clonakilty Ispíní Sausages are made with 100% Irish pork. From the home of the world famous black pudding.
Flavour Profile
A unique and delicious flavor profile that is sure to satisfy. Perfect for a traditional Irish breakfast or as an ingredient in a variety of other dishes, like sausage rolls or casseroles.
Cooking Methods
Serving Suggestions
As part of a traditional Irish breakfast, alongside black and white pudding, bacon, eggs, and tomatoes - not forgetting the other breakfast favorites like baked beans, fried potatoes, or toast.
Product Tour
Clonakilty sausages are made with high-quality pork, combined with a unique blend of spices and seasonings, including nutmeg, coriander, thyme, and sage. The sausages also contain a small amount of sugar and salt, along with natural flavorings and typically cooked by grilling, frying, or baking.
Things we get asked
What happens after I place my order?
You will receive an instant confirmation email to say that we have received your received our order. When your order has been prepared and sent you will receive an email with a parcel tracking number. This tracking number can be used to check on the progress of your delivery.

After you have received your order we may send you a follow-up email looking for your feedback.
How is my order packaged?
Your purchase will arrive as fresh as when it left our store. We use high-quality, eco-friendly insulated packaging, specially designed for the transportation of temperature-sensitive goods.
Where do you source your meat?
All of our meat is 100% Irish grass fed beef and sourced from local Bord Bia approved farms.