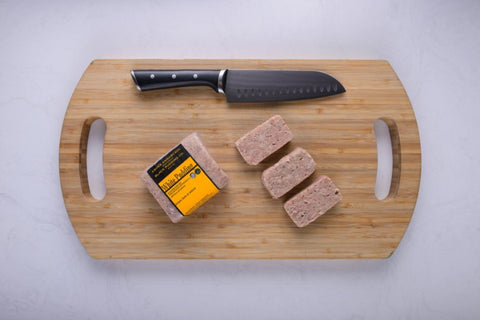 Annascaul White Pudding
Annascaul White Pudding is a hand-made pudding, cake baked in a steam oven. It has a soft texture, is spicy and bursting with flavour. This pudding uses only back bacon and gammon and this contributes to its uniqueness. A very versatile ingredient, it is an essential element of a traditional fry, is used as a starter in many restaurants and can be served hot or cold.
Flavour Profile
Annascaul White Pudding has a mild and delicate flavour, with a slightly sweet and nutty taste from the oatmeal. The pudding has a meaty taste, but not as rich as black pudding.
Cooking Methods
Pan-fry, grill, bake or boil
Serving Suggestions
Annascaul White Pudding is a classic ingredient in a traditional Irish breakfast. Serve it alongside eggs, sausages, bacon, tomatoes, and toast for a hearty and delicious meal.
Things we get asked
What happens after I place my order?
You will receive an instant confirmation email to say that we have received your received our order. When your order has been prepared and sent you will receive an email with a parcel tracking number. This tracking number can be used to check on the progress of your delivery.

After you have received your order we may send you a follow-up email looking for your feedback.
How is my order packaged?
Your purchase will arrive as fresh as when it left our store. We use high-quality, eco-friendly insulated packaging, specially designed for the transportation of temperature-sensitive goods.
Where do you source your meat?
All of our meat is 100% Irish grass fed beef and sourced from local Bord Bia approved farms.