Back to all recipes
Spicy Pork Stir Fry with Udon Noodles
By Tim Jones
With crispy ground pork, chewy noodles, and crunchy cabbage, this quick-fire udon noodle recipe is sure to impress.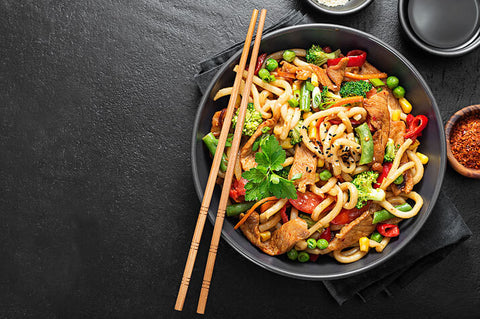 Ingredients
450g lean pork, cut into thin strips
2 tablesp. soy sauce
1-2 tablesp. Oil
1 teaspoon Sesame Oil (optional)
1 pack dried Udon noodles
1 fresh red chilli
2 cloves garlic, chopped
225g vegetables, chopped e.g. broccoli, peppers, runner beans, green beans, pak choi
50g cashew nuts/peanuts (optional)

Instructions
1. Mix the pork with the soy sauce. Cook the noodles according to the pack instructions. Set aside and keep warm.
2. Heat a wok or large pan. Add the oil. Then add pork and stir-fry for 3-4 minutes until golden brown. Add the chilli, vegetables and nuts and stir-fry for another 2-3 minutes. Add Noodles and mix thoroughly.
3. Finish with Sesame Oil for a beautiful glossy look and a hint of flavour. Garnish with Sesame seeds and Enjoy!