Back to all recipes
Crispy Pork Pitta Pockets
By Tim Jones
Deliciously crispy pork in a tasty pitta with cubed cucumber, tomato and salad. Makes for the perfect quick and satisfying meal.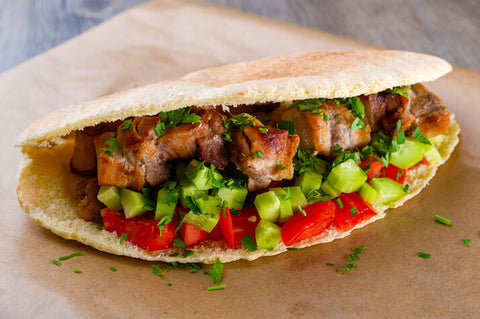 Ingredients
450g lean pork, cut into thin strips
2 peppers, deseeded and sliced
1 tbsp. curry paste ,
1 tbsp. Vegetable oil,
1 tbsp Olive Oil,
Salt and black pepper
Cucumber - cubed
Tomato - cubed
Mixed salad leaves
Lemon juice
4 pitta bread, toasted
Greek-style yoghurt or mayonnaise (optional)

Instructions
1. Cut cucumber and tomato into small cubes and set aside
2. Mix the curry paste, vegetable oil, salt and pepper. Pour it over the pork and mix well. Cook for 5-6 minutes in a hot pan.
3. Toss the cucumber, tomato, and lettuce leaves in some olive oil and lemon juice, add a pinch of salt and pepper. Pile into the pitta bread. Top with pork strips. 
4. Serving Suggestions: Serve with some Greek style yoghurt or mayonnaise (optional).