Back to all recipes
Chicken Stir Fry
By Tim Jones
This easy Chicken Stir Fry recipe is loaded with fresh veggies and the most delicious chicken fillets.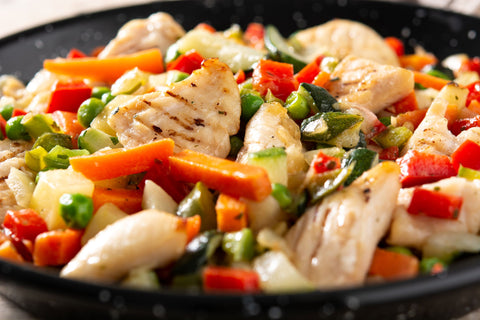 Ingredients
1 lb boneless, skinless chicken fillets cut into 1 inch cubes
2 tbsp olive oil divided
2 cups broccoli florets
1/2 yellow bell pepper cut into 1 inch pieces
1/2 red bell pepper cut into 1 inch pieces
1/2 cup baby carrots sliced
2 tsp minced ginger
2 garlic cloves minced
Instructions
1. Add one tablespoon of olive oil to a large skillet or wok and heat over medium high heat.
2. Add chicken (in batches if necessary) and season with salt and pepper. Cook for 3 to 5 minutes or until cooked through. Remove from skillet.
3. Reduce heat to medium and add remaining tablespoon of oil to the skillet.
4. Add broccoli, bell pepper, and carrots and cook, stirring occasionally, just until crisp tender. Add ginger and garlic and cook for an additional minute.
5. Add chicken back into the skillet and stir to combine.
6.Whisk stir fry sauce and pour over chicken and vegetables and stir gently to combine.
7. Bring to a boil, stirring occasionally, and let boil for one minute.
8. Serve with rice and/or chow mein if desired.